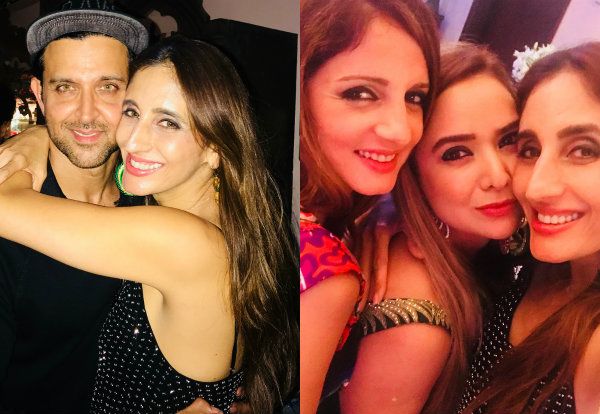 In 2014, just a week before his 13th wedding anniversary Hrithik Roshan stunned everyone with announcing his divorce with Sussane Khan. One of the best couples of Bollywood, Hrithik and Sussanne decided to end their 17-year long relationship which includes 4 years of their courtship. Though Hrithik Roshan and Susanne Khan parted their ways, they have been together for their children. They can be seen together holidaying, at dinner dates, at family functions often with their children. 
And the same we witnessed yesterday at the Eid bash. The pictures of Hrithik Roshan entering Sanjay Khan's(ex father-in-law) residence for the Eid bash became viral. As we know, Sanjay Khan is Susanne Khan's father. Hrithik's presence often notices at the house of Sanjay Khan proving that he is a very much part of the family's inner circle even after the divorce. Hrithik and Sussane who maintain a strong bond with each other's family gives an inspiration to the couples who part their ways. 
https://www.instagram.com/p/Bm006UkBC3n/?utm_source=ig_embed&utm_campaign=embed_loading_state_control
Sanjay Khan's house had double celebration as they were celebrating Zayed Khan's wife Malaika's birthday also. The pictures' of celebration we're posted on social media platforms. Sussanne has also posted a video of Malaika's birthday celebration on Instagram.
On the personal front, it seems that Hrithik and Sussanne want to give their broken marriage another chance for the sake of their growing kids. They have realised that it is not too late either as they have been supporting and caring for each other even after divorce. In the brawl of Kangana Ranaut, Sussanne had stood by Hrithik's side like a rock which shows there is something remains in between the duo. 
https://www.instagram.com/p/Bm0kORngSBH/?utm_source=ig_embed&utm_campaign=embed_loading_state_control
As per the reports of media, Hrithik and Sussanne are working it out. They identified the stress areas in their relationship and are doing their best to work their way around them. Give them time—they will come together again."