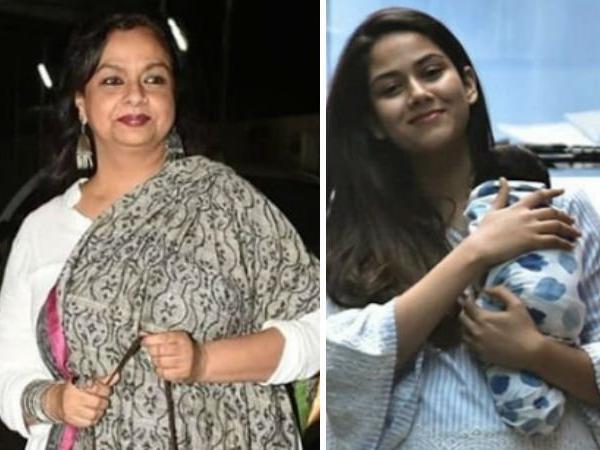 God has gifted Bollywood Jodi Shahid Kapoor and Mira Rajput with a baby boy on September 5.
Shahid made a declaration about the birth of Zain on his Twitter handle and wrote, "Zain Kapoor is here and we feel complete. Thank you for all the wishes and blessings. We are overjoyed and so grateful. Love to all."
https://www.instagram.com/p/BnbOgspHx5q/?utm_source=ig_embed
In recent times, Shahid's mother Neelima Azeem talked about her newly born grandson Zain Kapoor.
She stated that she is very happy and thankful. She also said that she is full of love for her as she got wonderful grandkids.
She also disclosed that they have not made any proposals to hold a naming ceremonial for Zain as both Shahid and Mira do not believe in beliefs and ceremonies.
But, Shahid Kapoor and Mira Rajput will commemorate the special time in some special way.
https://www.instagram.com/p/BnbNqbknOht/?utm_source=ig_embed
Neelima also talked about her 'rockstar' daughter-in-law's physical condition and stated she's really very strong.
Mira delivered Zain at Mumbai's Hinduja hospital. On September 7, the loving mom and dad took their baby home.
After that, Mrs. Shahid took to her personal Insta handle and expressed thanks towards her buffs for all affection and blessings.
Earlier this year, the power couple declared that they were ready to welcome their second kid in the most delightful manner. They posted an image of Misha with big sissy written beside her. The well-known couple even threw a lemon themed baby shower for Mira that got attended by nears and dears
https://www.instagram.com/p/BnbbFS7nR74/?taken-by=viralbhayani
Kapoor is currently enjoying the most fortunate time of his life. His last film Padmaavat was a smash hit and he has several film projects aligned in his kitty as well. The actor is also happy and feeling blessed.
https://www.instagram.com/p/BnbZm-MnuFV/?taken-by=viralbhayani
https://www.instagram.com/p/BnbUXeHnPRV/?taken-by=viralbhayani
https://www.instagram.com/p/BnbIAkfnqXe/?taken-by=viralbhayani